Parkdale Food Stories
In the summer of 2015, six teenagers joined two local artists in an exploration in food security and culture in Parkdale. They captured their neighbours' food stories, designed and completed several food-themed murals in the community, the biggest on the east-facing wall of the Dollarama at 1349 Queen Street West.
See their work and reflections below.
This project was funded in part by a grant from StreetARToronto(StART), a program of the City of Toronto. StART is part of the City's Clean Toronto Together Campaign, which links citizens with city government to keep Toronto streets clean and free of posters and graffiti vandalism.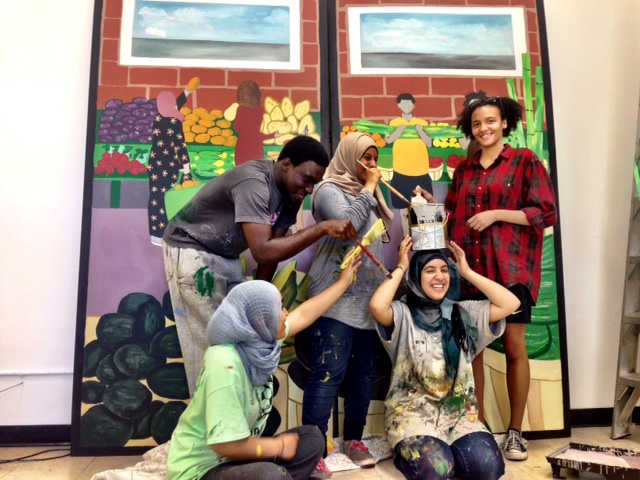 Youth Relfections
Reflection #1 / New Perspective /
What is there to do when you've just graduated from high school? Vacation, work, or volunteering? I chose to volunteer and it has been a wonderful experience. These past two weeks have taught me quite a bit. Given the opportunity to volunteer, I quickly signed up to help paint a mural with Greenest City for the community of Parkdale, which is my neighborhood and my home.
The only artistic bone in me, was my ability to take photographs and I hadn't done that in quite a while; in fact my Sony camera nearly became a Polaroid. What in the world was this young man thinking? Stick figures was the only visual art I could draw, no way this would go down well.
The funny part is once the project began, my stick figures were warmly welcomed, because one of my group members was just as skilled as I was. Our group consists of six youth and two lead artists, each of us contributing in several ways. One person is good with the visual aspects, while another is good with details, ideas or the overall design of the drawing.
The first week was spent priming panels that we will paint on. That was some hard work: the lifting, carrying and even the painting! The smell was not the greatest but we got it done (after complaints, whining and frequent bathroom breaks).
The mentors we have are wonderful artists and have taught us a lot and turned my stick figures into decent art. They are patient, good listeners and compromise on all the ideas we have. The group of people assembled together will surely create a beautiful work of art that will brighten Parkdale for many years to come, which will be located by Dollarama in the parking lot.
We have four weeks left to complete the project, which will be sad because I truly enjoy drawing and designing the mural with the group members and sharing jokes and bits of information from our daily lives. The mural will surely leave a smile on the faces of everyone who sees it and hopefully motivate others to come out and help paint more art work for the wonderful community of Parkdale!
Post by Emmanuel
Reflection #2 / Excellent Encounter /
I have been involved with Greenest City and their Growing the Future (GTF) program for five years now. Greenest City is like a second family to me. I have learned how to cook healthy, but delicious food, and how to properly tend to a garden while making positive friends. When Monique, our leader, asked me if I wanted to become apart of the Parkdale Food Stories mural project I felt happy. She knew that I was a hard-working person and was fit to do the job. I said yes, and sent off my resume and cover letter to her.
I have become a part of the mural first-hand and both improve and showcase my art skills and abilities. I have been able to hang out with my friends (which I know from my previous schools), I was able to meet a new friend and some kind, talented and helpful artistic leaders.
There is a quote from a poem that I wrote. "We're all like flowers, we grow in various ways but we are all from the same garden. We need water, air and sunshine to develop ourselves. Our roots reach towards friendship and love the way flower's roots reach toward the sun. Without these things our leaves that give us our own sense of personality and direction would simply disintegrate like the soil below us." I believe that this program has given us the chance to improve our skills, our roots, along side with the chance to reach up toward the sun like flowers do, and make new friends and enrich current friendships. The world cannot survive love, respect and kindness.
Programs like these give youth and others the ability to experience these things. I have enjoyed my time being a part of the mural project and I look forward to more excellent encounters. I cannot wait to see what out artistic outcome will develop into, and I hope that it puts a smile upon the people of Parkdale that admire it as much as myself and my peers do!
Post by Shay S.
Reflection #3 / Muralistic Integrity /
It's is a funny thing, isn't it? Life takes you down paths that you often least expect. For example, I never considered the thought that I would using my summer vacation time to help make the Parkdale Food Stories mural. But here I am, a member of the Parkdale Food Stories mural team, and I can honestly say that few things have given me more enjoyment and excitement than this summer project. It is a rare pleasure when you see sketches turn into real paintings and one that never seems to grow old.
I feel honored to be part of this project because this team is a place where we can express our ideas and thoughts without being afraid of being judged. This Mural was more than an exercise for my art skills it was therapeutic for my spirit. This Art Project gave me a greater appreciation of art in general because I understand how much work has to go into bringing your artistic thoughts into the corporal world.
The instructors were by far the very inspiration of this project, their encouraging words and selfless duty to their work humbles me. For example, when something went wrong Jim used his lunch hour to resolve the problem. The two lead artists are amazing because they take all of our opinions into account and often willing to incorporate it into the product. They also are very conscious of the public which is why they decided not to put any religious symbols into the mural because it might incite jealously and other unpleasant feelings towards the mural.
The team members that I work with are amazing and I couldn't hope for better peers to work alongside with for this important community project. Each one of them bring a unique mindset to the table and because of that the mural often becomes better. We aren't serious robots just doing a job we also talk and make jokes which improves the work atmosphere.
The mural was most probably the most lasting legacy of the work that we do. In the far future, 20 to 30 years later I may be showing the mural to my children and family telling them about how I helped make that when I was younger. The Mural will be around for perhaps the next decade and this will be remembered by the people who see it.
Post by Tenzin
Reflection #4 / A Great Experience /
Being a part of a community is beautiful.
Everyone in our community of Parkdale has different stories to tell. We're planning on telling those tales in a different way. In these past few weeks, we have been asking people in our neighbourhood to tell us their stories about food. Our story is be told with a giant piece of art expressing Parkdale; its past and present food story.
Parkdale is a big community with a lot of restaurants that serve different kinds of foods. Also, it's full of different kinds of people planting things in the community gardens.
Working with the other youth, we have all built more leadership skills, and teamwork. Working with the group is fun, we got to meet some new people and get to know more about the others we already know. Sometimes we get into long conversations, but everyday we have fun talking and painting.
As a very active person that has been in a lot of community programs, this project was the most fun. I would love to paint another mural one day, and represent something in Parkdale. Being apart of the Parkdale Food Stories mural project was amazing and fun.
Post by Fatima
Reflection #5
Everyone has a story to tell. Most of the time these stories include FOOD! So we listened to some of those stories happening around the Parkdale community and put them all together in a great big mural.
It was amazing seeing the progress of the mural happen over time. It started with a few people drawing in a basement, to talking to all the wonderful people in the community and then creating this big piece of art that I am sure everyone can find something to relate to it.
I never would have guessed the mural to look this good so far. A cool thing we have done is get pictures of people in the community and our selves doing things and then draw and paint them on to the mural. You may see your self or some one you know inside the mural. We also painted some places found inside and around Parkdale that may be familiar, as well as a couple of traditional food you can find in the community.
We also had a couple people come by and see it, asking us questions of the process. Here we are in The Parkdale Villager.
Everyone in the team is great. We all get along and have a lot of fun while painting. Everyone in the team has unique skills that help us getting this painting put together easier and I think everyone will leave this project with a couple new skills and great summer memories.
One thing I can say is this was a really great way of spending my summer. I got to meet new people and have lots of fun spending my summer more productively. I would definitely do a project like this again if I had the chance to.
Post by Hanan